HOW TO PAY THROUGH EUROPLAT (EUROSET)

The service is available in any of the Euroset stores all over the Russia!
You will be able to pay after you will get the invoice.
We  draw your attention: the payment can be provided only though Euroset cash desk.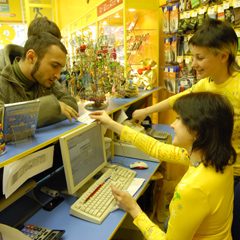 Step 1.
You need to tell to Euroset employer that you want to pay for air ticket or touristic package (even if you need to pay for other goods or services) through Europlat system.
You can tell to employer that he needs to push the "F6" and choose "Air/train/bus tickets" type of payments.
Step 2.
Name the mobile number with the prefix 10, which you specify in order (for example, 1079151234567).
You can tell to Euroset employer that the telephone number specifies in section — "Booking or orders number".
 Step 3.
The seller will name all your invoices. Choose the invoice that you want to pay.
Step 4.
Pay with cash and get the check.
If you have any questions about payment process, please contact us: by e-mail support@platron.ru or by the tel (24/7): +7 495 983 32 79.